Big Creek Lumber strives to be a good business citizen and contributor in the communities in which we do business.  Over the last several decades, we have been fortunate enough to enjoy a level of business prosperity that allows us to share with the communities in which we do business.  We have three areas of focus in our communities.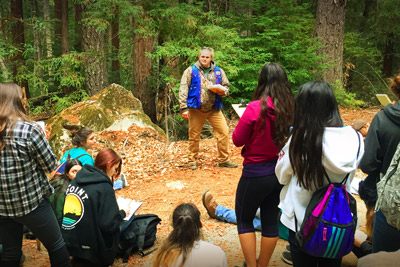 Big Creek Lumber contributes hundreds of donations annually to various groups, invites school groups to tour our sawmill and offers our School Garden Bed Grant Program annually.
Read more.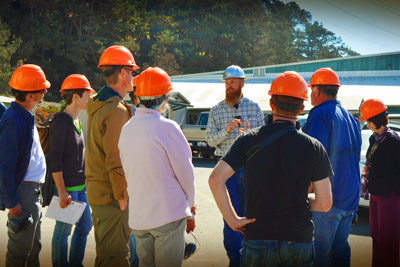 We proudly practice sustainable forestry, support a number of conservation and research groups and provide trees to be planted in our communities.
Read more.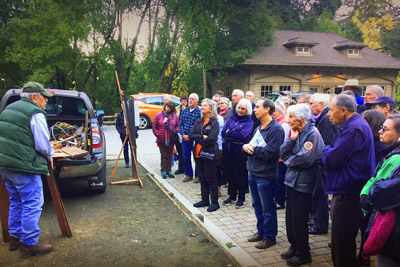 Big Creek was founded after World War II with determination, hard work, cross cut saws, and skills that were passed down from prior generations. We support museums and events to educate future generations.
Read more.
YOUTH AND EDUCATION
Since being founded in 1946, we have made many donations to organizations that focus on youth and education. Below are a few of the organizations that we have supported recently and annually:
4-H Clubs
Agri-Culture
Boys and Girls Club
Cabrillo College Stage
Cal Poly Logging Team
Eagle Scout Projects
Life Lab Gardens
Little League Teams
Local Schools
Make a Wish Foundation
Monterey Bay Aquarium
Special Olympics
Donation Requests
Each year, Big Creek Lumber receives hundreds of donation requests.  Since we are unable to support all the worthy organizations from which we receive solicitations, we try to give preference to local groups with an emphasis on educational and youth activities that are requesting in-kind lumber donations.  If your organization is interested in Big Creek Lumber's support, please visit our Donation Requests Page

School Garden Bed Grant Program
In 2016, after thousands of donations to local school and Life Lab gardens, we recognized a broader need and founded our School Garden Bed Grant Program.We have awarded ten School Garden Bed grants annually to local schools where we do business.
Every year in the early fall, eligible schools within 25 miles of a Big Creek Lumber location that did not receive a Garden Bed Grant the prior year (schools may receive one every other year) and have a plan in place to continue the garden program are encouraged to apply. All eligible applications will be placed in a drawing and ten winners will be selected at random, two per yard. Garden bed deliveries take place every spring just in time to plant spring gardens at the school.
Please fill out the general information on this grant application form. Applications are accepted annually from August-October. We encourage all eligible schools to apply. This is a great opportunity for kids to learn about construction, where their food comes from and healthy eating habits.
Note on 2020/2021: Due to the Pandemic we have not yet delivered our 2020 School Garden Bed Grants. We plan to make our 2020 deliveries when it is safe and while prioritizing the health and safety of the students, teachers and Big Creek's employees. We plan on resuming our normal school garden bed grant program in 2022.
2019 Recipients:
Farmdale Elementary School in Merced, CA
H.A. Hyde Elementary School in Watsonville, CA
Kings Mountain Elementary School in Woodside, CA
La Honda Elementary School in La Honda, CA
Paloma Creek High School in Atascadero, CA
Paso Robles Co-Op Preschool in Paso Robles, CA
Sheehy Elementary School in Merced, CA
Shoreline Middle School in Santa Cruz, CA
Starlight Elementary School in Watsonville, CA
Valencia Elementary School in Aptos, CA
2018 Recipients:
Cesar E. Chavez Middle School in Watsonville, CA
Coastside Children's Programs in Half Moon Bay, CA
Del Mar Elementary School in Morro Bay, CA
E.A. Hall Middle School in Watsonville, CA
Gault Elementary School in Santa Cruz, CA
Happy Valley Elementary School in Santa Cruz, CA
Luther Burbank Elementary School in Merced, CA
Pescadero Elementary School in Pescadero, CA
Thomas Olaeta Elementary School in Atwater, CA
Virginia Peterson Elementary School in Paso Robles, CA
2017 Recipients:
Bayview Elementary in Santa Cruz, CA
Fruitland Christian Preschool in Atwater, CA
A. Hyde Elementary School in Watsonville, CA
La Honda Elementary School in La Honda, CA
Mintie White Elementary School in Watsonville, CA
Ortega Elementary School in Pacifica, CA
Scotts Valley High School in Scotts Valley, CA
Anthony's School in Merced, CA
Templeton Middle School in Templeton, CA
Vineyard Elementary School in Templeton, CA
2016 Recipients:
Almond Acres Charter Academy in San Miguel, CA
Alvin S. Hatch Elementary School in Half Moon Bay, CA
Aromas School in Aromas, CA
Boulder Creek Elementary School in Boulder Creek, CA
Branciforte Middle School in Santa Cruz, CA
Farallone View Elementary School in Montara, CA
Orchard School in Aptos, CA
Our Lady of Mercy School in Merced, CA
Paul Lutheran School in Merced, CA
Templeton Elementary School in Templeton, CA
McCrary Family Scholarship
Big Creek Lumber would like to help today's youth gain valuable skills that will help them be self-sufficient and provide the opportunity to build sustainable, enjoyable careers. We are offering a scholarship in the form of a one-time award amount of $2,000. Deadline to apply is 5pm on Friday, April 30th 2021.
To learn more about our scholarship program, view full eligibility criteria and to apply visit our scholarship page
Sawmill Tours
Big Creek Lumber often offers sawmill tours for educational groups and participates in educational programs in conjunction with the California Forestry Challenge, Cal Poly San Luis Obispo, Leadership Santa Cruz County and multiple forestry and agricultural programs.
If you are interested in setting up a tour, contact Bob Berlage at tours@big-creek.com for additional information.
STEWARDSHIP
Big Creek Lumber is proud of our sustainable forestry practices and we provide consistent support for scientific research by allowing access to our property to agencies such as the California Department of Fish and Game, the National Marine Fisheries Service and the Regional Water Quality Control Board as well as a wide range of educational institutions.
We provide consistent support for scientific research.
For over 35 years, Big Creek Lumber has donated the hatchery site for the Monterey Bay Salmon and Trout Project, a non-profit group specializing in raising and releasing native brood stock into local Central Coast streams.
We are a sponsor of the Agri-Culture program which is a non-profit that educates community members on agriculture.
When available, we donate thousands of redwood trees to the community members for them to plant, grow and learn about redwood trees.
Access to Big Creek Lumber property is by written permission only.  If you are interested in obtaining a permit, you may contact our Davenport administration office during regular business hours.
Contribution of equipment and expertise during natural disasters.
HISTORIC PRESERVATION
We believe it's important for future generations to learn about how things are/were made and the skills required to do so. We support many organizations that teach future generations about history.
We support many organizations including:
Ag History Project
Castle Air Museum
San Lorenzo Valley Museum
Santa Cruz County Fair
State Parks
On special occasions, Lud will do demonstrations of redwood shake splitting. Additionally he has donated and crafted building materials by hand using historic splitting techniques for restoration projects.
In 1885 Hawaiian Princes brought surfing to Santa Cruz when they surfed redwood O'lo boards near the San Lorenzo River Mouth. In 2015 Big Creek was contacted by the Santa Cruz Surfing Club Preservation Society. They were working with the Museum of Art & History in Santa Cruz on an exhibit with the original O'lo boards. Big Creek Lumber donated the materials for master surfboard shaper Bob Pearson to make replica boards with redwood. The replica boards were used by local professional surfers on the 130th anniversary of surfing being brought from Hawaii to the mainland. There was a celebration of surfing history.
One of our most notable contributions was to the Smithsonian Institution in their Museum of Natural History in 2003. Big Creek was approached and asked to make railroad ties for a new transportation exhibit to be displayed with the train the "Jupiter". The Jupiter is a steam engine that ran between Santa Cruz and Watsonville during the late 1800s. This remains on display today.
We do historic logging lectures. Our co-founders Bud and Lud McCrary have been interviewed in many books on local logging history and have loaned equipment and tools for museum exhibits. It is a personal hobby of theirs to record local logging history. Lud has a file with historical information on over 200 sawmills that all once operated in the Santa Cruz Mountains.