Contact our Forestry Department
(831) 466-2430
forestryinfo@big-creek.com
Overview
Big Creek Lumber's forest management objectives are influenced by philosophy and a decades-old respect for our local forests.  At the founding of the company in 1946, we envisioned managing forest resources in a manner that was sustainable from both a business and environmental perspective.  Since we first began harvesting timber over seven decades ago, our company has been at the forefront of pioneering many progressive and protective forest management practices.
"Our Forests are our Legacy." — Bud McCrary
Over the years, a number of these practices have been adopted as state regulations specific to timber harvesting operations in Santa Cruz, San Mateo and Santa Clara counties.  These practices include the use of selective harvesting, riparian setbacks, improved road design to minimize erosion, and special methods for treating logging slash.  Big Creek Lumber's commitment to practicing responsible forest management has garnered many commendations over the years, including the prestigious Francis H. Raymond Award "In Recognition of Outstanding Contributions to Forestry in California" from the California State Board of Forestry and Fire Protection, and the "Private Sector Award for Outstanding Wildlife Conservation" from the California Department of Fish and Game.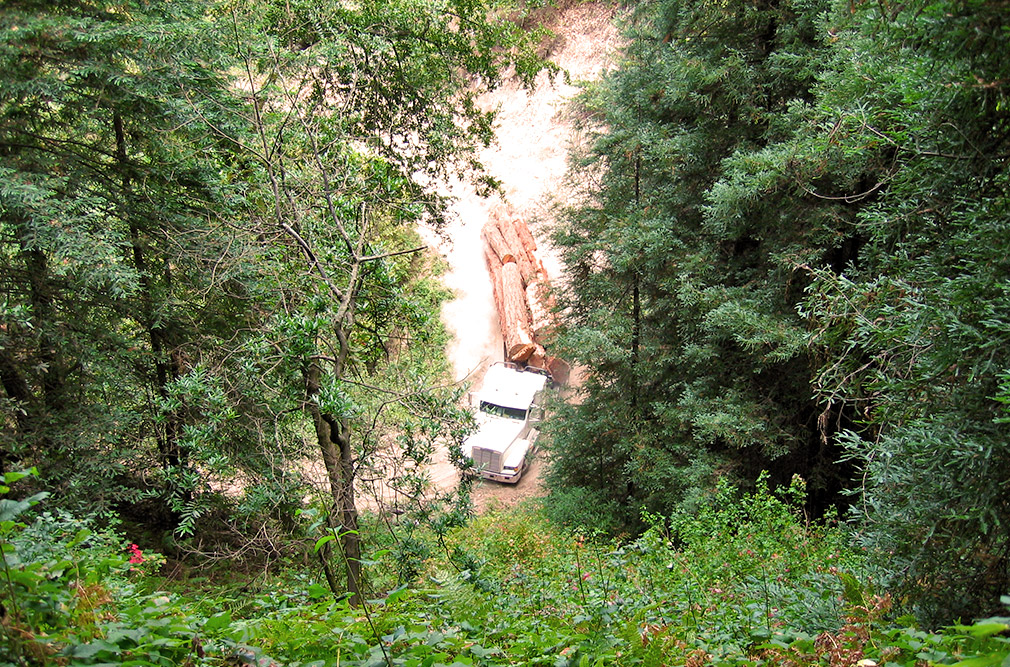 Services
In addition to managing its own timberland, Big Creek Lumber provides comprehensive forest management services to other private timberland owners.  Big Creek Lumber is committed to practicing the same high level of forestland management on client lands as we do on our own properties.  Many of our clients have developed partnerships with us for long-term continuing management and as a result have been able to meet a wide range of forest management objectives, including:
Increased forest vigor, timber growth, and forest income potential,
Reduced soil erosion through road maintenance and restoration,
Diminished fire hazard through reduction of fuels,
Improved forestland access through well-designed roads,
Enhanced wildlife habitat and water quality through site restoration, and
Valuable educational opportunities in resource management.
Big Creek Lumber is able to provide you with customized forestry services through our strong working relationships with government agencies.
For land owners interested in managing the timber on their property, Big Creek Lumber's skilled and professional forestry staff offers a complete package of forestry services. These services include resource assessment, development of timber harvest plans, oversight of harvest operations and purchase of logs.  Big Creek Lumber is able to provide you with customized forestry services through our strong working relationships with government agencies, other forest landowners, and the local community by utilizing either our own highly skilled logging crew or qualified contractors.
Residential Tree Removal
Big Creek Lumber does not offer residential tree removal, however we frequently purchase redwood logs from these tree removal projects. You can work with a local licensed timber operator who can be able to help you with obtaining the proper permits. For the most current list of licensed timber operators see the most current list of licensed timber operators here.
Meet Our Forestry Team
Our team is comprised of a diverse group of talented individuals with a wide range of experience who are dedicated to fulfilling Big Creek Lumber's long-term commitment to responsible forestry.
Janet McCrary Webb
President and Registered Professional Forester #2347
Received a Bachelor of Science in Forest Management from Humboldt State University in 1983.  As a McCrary family member and Big Creek Lumber owner, Janet brings a wide perspective of the forest products industry to the department.
Dennis Webb
Chief Forester,  Registered Professional Forester #3064
Has a Bachelor of Science in Forestry and Natural Resources from California Polytechnic State University. Worked as a logger and timber cruiser before joining Big Creek's forestry department in 2015. Enjoys managing forests by collaborating with land owners and executing complex logging projects.
Cory Carlson
Staff Forester
Received a Bachelor of Science in Agricultural Science with an emphasis in Forestry from California Polytechnic State University in 2021. Cory worked for two summers for Big Creek Lumber on their logging crew while attending Cal Poly before becoming a staff forester.
Raina Blasser
Staff Forester
Originally from New Jersey, Raina relocated to South Lake Tahoe in the mid 2000's to surround herself in nature and to pursue environmental work. After attending Lake Tahoe Community College and graduating with an A.A. in Natural Science she transferred to the University of Nevada, Reno where she earned a B.S. in Forest Management. Afterwards, she enjoyed two seasons working with the U.S. Forest Service, Lake Tahoe Basin Management Unit in both the Silviculture and Conservation Education departments. Since moving to Santa Cruz in August 2021 with her husband and son she has realized a dream of living near the ocean. Now, she loves working in the Forestry Department of Big Creek, learning and practicing forestry in the beautiful forestlands of Central California!
Bob Berlage
Forestry Communications
Received a Bachelor of Arts from Utah State University in 1973, PhD candidate, University of Utah.  Bob spent 21 years as a timber faller, including 10 years as head timber faller for Big Creek Lumber.  Bob has worked at Big Creek for over 40 years.
Desiree Netto
Forestry Administrative Assistant
Received a diploma in Marketing and Management in 1990  from MarTech College in Canada. She has over 15 years of administration experience, and Desiree is happy to have found a way to blend her career with one of her passions…..being a good steward of the earth.
---
When you combine the hands-on experience of our foresters, it adds up to over a century of experience, providing the greatest depth of forest management knowledge in the Santa Cruz Mountains.
Our forestry staff participate in a wide range of organizations including the California Licensed Foresters Association, the California Forestry Association, Forest Landowners of California, the California Farm Bureau Timber Advisory Committee, the California Redwood Association, the Central Coast Forestry Association, the Santa Cruz County Farm Bureau, the Santa Cruz County Fire Department Advisory Committee, and the California Polytechnic State University  Department of Natural Resources and Environmental Science Advisory Committee.
For further information about our forestry services please contact: forestryinfo@big-creek.com