Big Creek Lumber stocks Boise Cascade engineered wood products, BCI® I-Joists, VERSA-LAM ® LVL Beams, and Versa-Stud® LVL for wall framing, as well as a broad range of Rosboro Glulam X-beams in Architectural Grade 3-1/2", 5-1/2", 6-3/4", and 8-3/4" widths and limited 3-1/2" & 5-1/2" widths in Industrial Grade for builders looking to reduce costs.
BCI® Joists
BCI® Joists are specially constructed I-joists with flanges made from strong VERSA-LAM® laminated veneer lumber with oriented stranded board webs and approved waterproof structural adhesives, providing outstanding strength and durability.
Features & Benefits
Five Series: 5000, 6000, 6500, 60 and 90
A complete line of products to satisfy every home building need
About 20% stronger than comparably sized dimension lumber
Longer spans or smaller joists using less wood fiber may be specified
Widest I-Joist product line in the industry
Easier to work with on the jobsite because of their wide nailing surface
Light weight
Easier to handle; quick construction; lower labor costs
Available in long lengths
Simpler floor/roof layouts; increases floor performance and seismic resistance
Consistent from piece to piece: help keep floors flat and homes square
Finish work can go faster with fewer problems; quiet floors
1-1/2" pre-stamped knockouts
Wiring can be routed through the web; quicker construction, reducing labor costs; allowing airflow above insulation
Holes allowed in web
Wiring, HVAC, plumbing and other large holes can be routed through the web; no unsightly soffits
"Eased" smoothed edges
Framers are much less like to suffer splinters on the job
Clean appearance
Pleases the structure's owner which makes the builder look good
Can be field trimmed with carpentry tools
Quick, easy job site modification without specialized skills or tools
Renewable resource
Uses about half the wood fiber of dimensional lumber (build "green" into the product)
Lifetime warranty
Instills confidence in the product, the builder, and YOU!
Link to Boise Cascade BCI® Joists Information
https://www.bc.com/manufacturing/bci-joists/
Code Reports
http://www.icc-es.org/Reports/pdf_files/ESR-1336.pdf
http://www.icc-es.org/reports/pdf_files//VAR-1017.pdf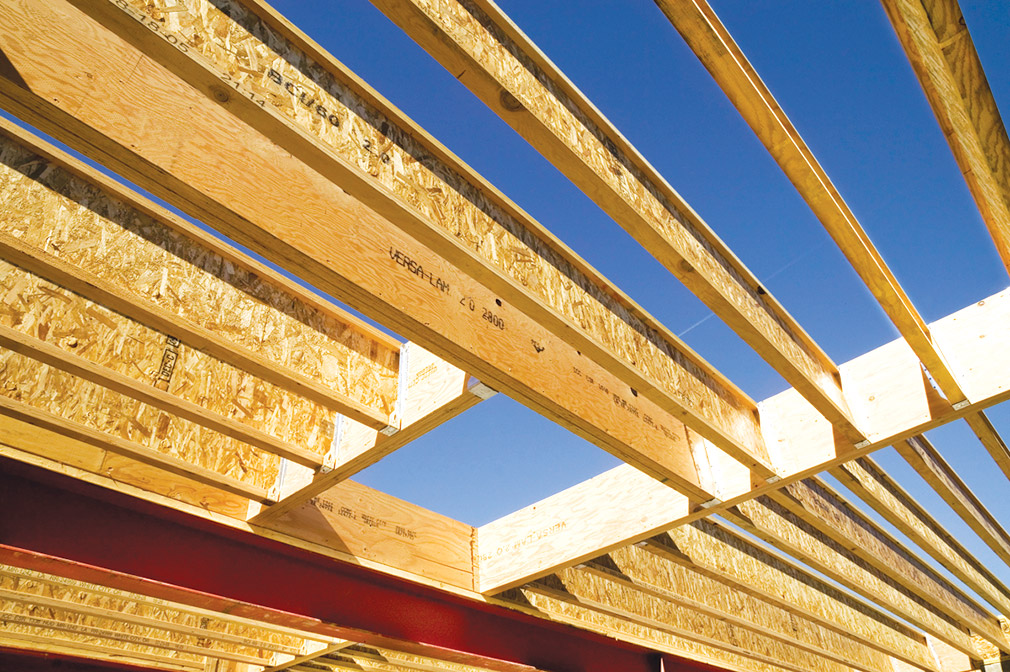 VERSA-LAM®
VERSA-LAM® laminated veneer lumber (LVL) beams and headers eliminate twisting, shrinking and splitting, and deliver flatter, quieter floors and structures. These items are sized to match BCI® Joists and other elements of the SIMPLE FRAMING SYSTEM®. VERSA-LAM® offers quick assembly and is precision cut into more than 18 standard sizes. Because they have no camber and strength is consistent throughout, VERSA-LAM® LVL products have no top or bottom side. With better properties, VERSA-LAM® beams support heavier loads and longer spans than comparable glulam or dimension lumber products. Price competitive with laminated strand products, VERSA-LAM® offers all of the advantages of authentic laminated veneer lumber. These beams are manufactured in multiple widths and depths to match BCI® joists.
No camber
Flat floor; no installation errors
Dimensional stability
Reduces inspection time and rejects
Depths match BCI® Joists
Part of the SIMPLE FRAMING SYSTEM® FAMILY
Wide width
Speedier installation; eliminates need for bolting or nailing
VERSA-STUD®
Engineered studs for tall walls, VERSA-STUD® laminated veneer lumber wall framing is engineered for the builder who wants stronger walls to resist wind loads, stiffer walls for a solid feel, and straight walls for a high-quality finish.
VERSA-STUD® offers at least 2.1 times more bending strength and 20% more stiffness than no. 2 SPF dimension lumber studs. VERSA-STUD® wall framing provides superior wind resistance, strength, and appearance in tall wall applications and eliminates the "hinge" created by platform framing. VERSA-STUD® products should be considered for stairwells, entrance door and window walls, elevator shafts, pocket doors, and walls where cabinets or wall tile are to be installed. VERSA-STUD® is available in lengths up to 60 feet for specialized applications and optimized cutting, and as with VERSA-LAM®, all edges are eased to help prevent painful splinters. VERSA-STUD® products are manufactured from VERSA-LAM® and are available nationally.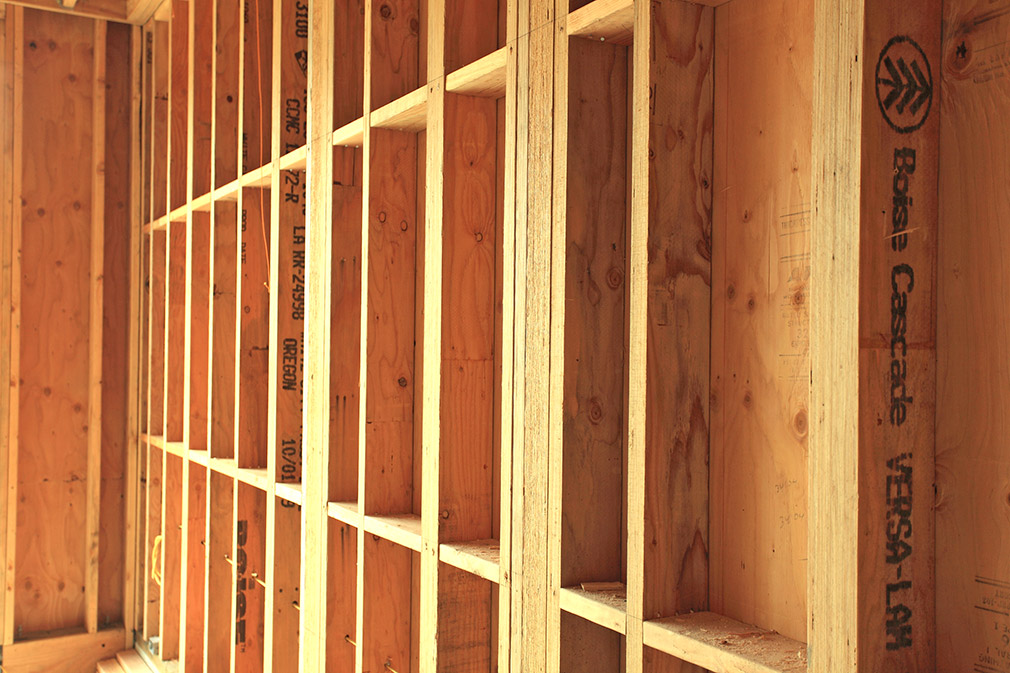 Rosboro X-BeamTM glulam
Rosboro X-BeamTM glulam is the most cost-effective engineered wood product and the product of choice for a building industry increasingly focused on value engineering. Rosboro X-Beam is 20% to 30% less expensive than LVL and up to 20% less expensive than laminated strand lumber (LSL), so it is also a great choice for short door and window headers.
Rosboro X-Beam has an architectural appearance and matches standard framing.
The greater widths relative to conventional 3-1/8″ and 5-1/8″ glulam equate to increased load-carrying capacity (up to 12% for 3-1/2″ and 7% for 5-1/2″).
Architectural Appearance
X-Beam is suitable for applications where glulam is exposed in the finished structure, such as residences, office buildings, restaurants, and schools.
Industrial Appearance / ESL
Used in applications where appearance is not of primary importance, such as industrial and warehouse buildings or framing where the beam is in the floor system or behind sheetrock.
Design Properties
X-Beam is 24F-V4.
X-Beam Glulam Sizes
Available Net Beam Widths: 3-1/2″, 5-1/2″, 6-3/4″ and 8-3/4″.
Depths
Rosboro X-Beam is available in conventional depths of 1-1/2″ increments as well as I-Joist compatible depths. X-Beam also matches 2 x 10 and 2 x 12 depths at 9-1/4″ & 11-1/4″. Industrial / ESL available in 3-1/2" and 5-1/2" by I-Joist Depth, 9-1/2", 11-7/8", 14", and 16"
Camber
X-Beam is manufactured with a slight 5,000-foot radius making it ideal for floor and roof framing.
Glulam is one of the industry's most resource-efficient choices:
Made from a renewable resource – second- and third-generation forests.
Resins made with EcoBind™ Resin Technology
Meet or exceed the most stringent global emissions standards. EcoBind Resin Technology is a licensed trademark of Momentive Specialty Chemicals.
Certifications and Codes
Rosboro Custom Glulam is certified by the APA/EWS and Independent Inspection Title 24 and Department of State Architect (DSA). Code recognitions include Approval by ICC-ES Report ES2-1940, compliance with ASTM D-2559 for wet-use adhesives, inspected and certified by APA/EWS in conformance with American National Standards (ANSI) A190.1-02 and it is Los Angeles City approved.
Big Creek Lumber's friendly and knowledgeable staff and online resources can help you get what you need to get the job done.
Visit one of our convenient locations.
Research our products online.
Contact us directly to request a quote.