We carry an assortment Simpson Strong-Tie products at all of our branches. For nearly 60 years, Simpson Strong-Tie's primary focus has been providing powerful building solutions. Their extensive product line makes it easier to design, build, repair, protect, and strengthen structures — from wood frame homes and multi-story buildings to roads and bridges. Most of these items are available at any branch, and if you need a specialty product, we can get it.
Simpson Strong-Tie® Connectors
Simpson Strong-Tie pioneered the connector industry, and remains focused on innovation and quality. Their ever-expanding line of product solutions gives engineers, designers, and builders everything they need to build safer, stronger structures. Connector products from Simpson Strong-Tie do more than increase the structural integrity of homes against the forces of nature. For builders, they enhance efficiency while upholding the highest performance standards. For homeowners, they help protect lives. Through constant research, testing, and engineering, products from Simpson Strong-Tie are solving construction challenges and providing the strength to make powerful connections.
Simpson Strong-Tie® Fasteners
In the fastener marketplace, Simpson Strong-Tie stands apart from the rest. Quality and reliability is their top priority. That's why Simpson Strong-Tie hires PHDs, metallurgists, materials engineers, and structural engineers to create the best possible fasteners. Each production run at Simpson Strong-Tie goes through rigorous testing to ensure their fasteners can handle higher loads, resist corrosion, and make installation more efficient.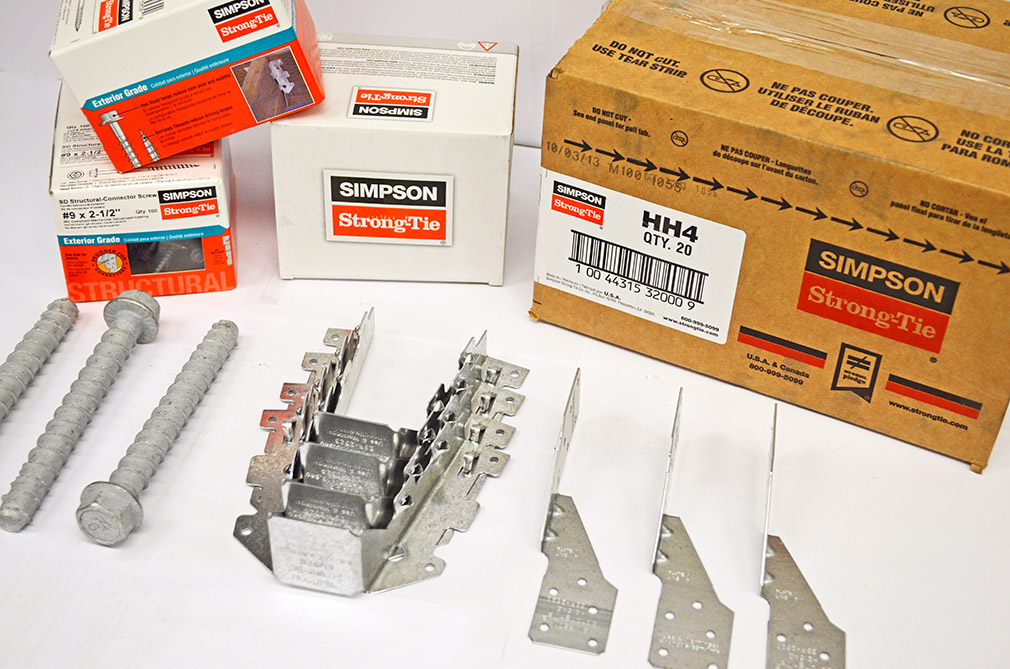 Simpson Strong-Tie's fastener product lines include:
Strong-Drive® Structural Fasteners
When performance is critical, these best-in-class, load-tested fasteners will meet the need. Strong-Drive® structural fasteners are engineered and extensively tested to efficiently meet your most demanding wood and metal applications. Stronger can also be faster. The Strong-Drive family is designed to install easier than other fastening methods, which saves time and money.
Deck-Drive® Premium Fasteners
Deck-Drive® screws are the ultimate deck screws with superior performance for decking projects. These screws are designed with the most demanding deck builders in mind. Whether the project calls for wood decking, premium composite, or exotic hardwoods, you can trust Deck-Drive screws to provide you peace of mind, protect your reputation, and keep your customers smiling.
Quik Drive® Auto-Feed Screw Driving Systems
Doing the job right doesn't have to take more time. Quik Drive® is the fastest auto-feed screw driving system on the market, ensuring you'll save maximum time during repetitive fastening applications. Rather than installing individual screws, or other more complicated fastening options, Quik Drive operators can work faster, in most cases from an ergonomic standing position. When time is money, Quik Drive is the faster fastener tool.
Simpson Strong-Tie® Adhesives and Anchors
To help contractors build long-lasting concrete structures, Simpson Strong-Tie offers a full array of anchoring systems for residential, commercial, infrastructure and industrial markets. Their adhesives and wide assortment of mechanical anchors provide high-strength performance in concrete. Together, they give your customers the power to build roads, bridges, and other concrete structures.
Simpson Strong-Tie® Lateral Systems
Simpson Strong-Tie offers the industry's largest selection of lateral-force resisting systems, providing advanced design, flexibility, and durability for multi-story, wood-frame construction. Designed to bear the brunt of a seismic event, the new Strong Frame® special moment frame helps buildings resist collapse. Their prefabricated wood and steel Strong-Wall® shearwalls deliver high load values and versatility for a wide range of applications — all to give your customers the power to build multi-story buildings.
Simpson Strong-Tie® Connectors for Cold-Formed Steel Construction
Simpson Strong-Tie provides engineers and builders with complete structural solutions for cold-formed steel construction — from steel-to-steel connections to full-scale lateral solutions and curtain wall connectors. With decades of product design, testing, and manufacturing experience, Simpson Strong-Tie is dedicated to developing innovative solutions that give your customers the power to build strong steel buildings.
Simpson Strong-Tie® RPS Systems
For the structural repair of concrete structures, the repair, protection, and strengthening systems of Simpson Strong-Tie help protect against deterioration. From custom-manufactured fiberglass jackets to underwater epoxies, Simpson Strong-Tie offers a broad range of tested and proven products that deliver long-term solutions — giving your customers the power to build and repair.
Big Creek Lumber's friendly and knowledgeable staff and online resources can help you get what you need to get the job done.
Visit one of our convenient locations.
Research our products online.
Contact us directly to request a quote.