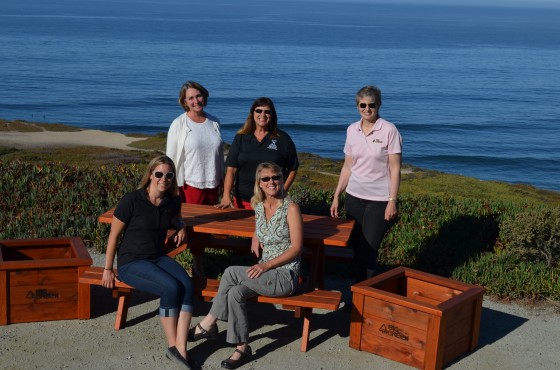 The Santa Cruz County Fair kicks off on Wednesday, September 16th in Watsonville and Big Creek Lumber is excited to once again be a part of the festivities and raise money for local charities. Today Big Creek announced the beneficiaries for their annual County Fair charity raffle fundraiser: CASA of Santa Cruz County, Hospice of Santa Cruz County and Unchained.
You can support these wonderful charities and have a chance to make this year's theme of "Country Nights and Carnival Lights" come to life in your own backyard when you win the lovely redwood patio set. These pieces are custom designed, built from sustainably harvested redwood from the Santa Cruz Mountains and Big Creek donated both the time and materials. All money from raffle ticket sales will be given directly to the charities.
All three charities have expressed great enthusiasm for the fundraiser, "We are so fortunate to have such a generous and caring community and we thank the Big Creek Lumber employees for their support," said Michael Milward, CEO at Hospice of Santa Cruz County.  "The raffle donations help children who are grieving the loss of  someone special to attend our annual Camp Erin free of charge.  They also connect our pet-loving patients with volunteers and pet companions.  These programs make such a difference in the lives of those we serve and we are fortunate to have caring partners like Big Creek Lumber," he added. Melissa Wolf, Founder and Executive Director of Unchained stated, "With Big Creek Lumber's generosity, we can help more youth reach their potential as great human beings".
For the past 69 years, Big Creek's contributions to the community include; donations of materials, utilizing heavy duty logging equipment to assist during natural disasters, hosting numerous Boy Scout campouts and community events on their property, providing a location for the Monterey Salmon and Trout Project free of charge since 1982, and much more.
Our charity raffle can be found at the Big Creek Lumber booth, located just before the livestock area. Tickets may be purchased for $5 each or 3 for $10 and all proceeds go to the selected charity. The Fair is sure to be fun for the whole family. For more information on the Santa Cruz County Fair, visit www.santacruzcountyfair.com