NEWS & NOTES FROM BIG CREEK LUMBER
Tools, Tips and Information from our business to yours – Building better business together!
---
Jennifer Robinson, Hardware Coordinator & Customer Service in Paso Robles
How long have you worked at Big Creek? I have been at Big Creek for 2 years.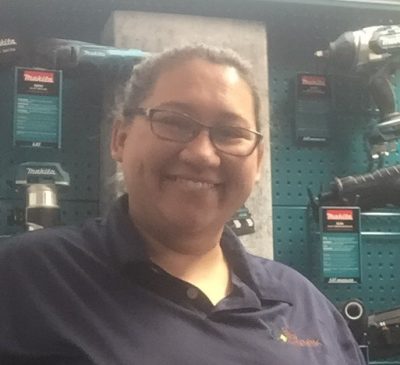 What is your favorite part of working for Big Creek? My favorite part of working here is getting to know the contractors and seeing pictures of what they make out of the lumber we sell them.
What's your favorite product that we sell? My favorite product we sell is the T&G Pine. ​I love how it looks installed and all the different ways it can look from natural to staining it dark or white washing it.
What do you like to do for fun? For fun I like to go to the beach, work on projects, or go on little weekend trips. Currently though my weekends are spent building a new home.
---
Market Report
All three markets: Green Douglas Fir, OSB and Plywood are extremely strong, with price increases daily and shortages showing up on some items. Look for price increases to continue through March.
---
Con Common Special ends March 31st!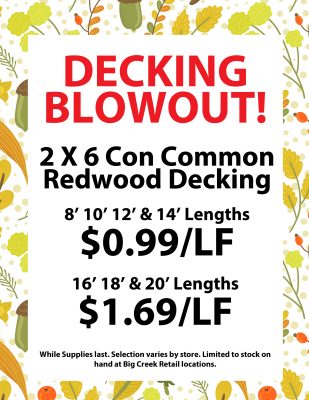 ---
How to Save for Retirement While Running a Business 
By Rashan Dixon
Freelancers, solopreneurs and small-business owners take huge risks by choosing self-employment over traditional careers. Not only do they give up the security of steady paychecks, but they must also give up the perks that come with the cash. Most benefits, like paid time off and gym memberships, don't matter much to people in control of their own schedules. Others, like privileged investment vehicles, sting a little more when they vanish.
Entrepreneurs love to put their savings back into their businesses, even when they could use more personal financial security. No amount of money can delay the future, though. What happens when entrepreneurs decide to step away from work and live off their savings? People who don't make a conscious effort to save money in the short term usually end up in tough situations down the road.
When it comes to saving for retirement, diversification is key. In France, citizens are protesting by the hundreds of thousands in response to proposed changes to the country's historically generous pension plan. Entrepreneurs who put all their eggs in a single savings basket — no matter how secure that basket may appear — put themselves at risk of seeing those savings wiped away.
Pick a variety of vehicles.
Maybe your business will make you wealthy beyond imagination. Maybe not. Entrepreneurship is a risky game. But while you can't predict the future, you can put your money to work without taking on the same amount of risk with your savings as you do with your business.