Builder: Andy Gere, Homeowner & Wood Artist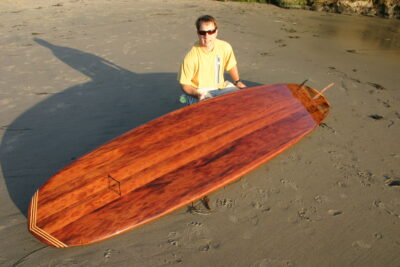 Project Description: Redwood Surfboard
Everyone is familiar with redwood as a construction material, but in the right hands it can be turned into a work of art.
From Andy Gere: I built this redwood surfboard by hand from Santa Cruz Mountains redwood. It's 11 feet 6 inches long, and 29 inches wide. The wood provides terrific strength, so I only needed a single layer of 4 ounce fiberglass cloth set in epoxy to waterproof the board. I built it in my garage in 2008, and enjoyed surfing it for quite a while before retiring it as a wall hanger. I also made the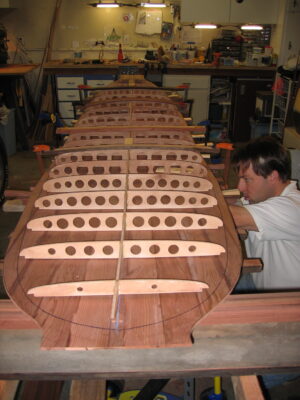 center fin, which is clear pine and redwood laminated in fiberglass. My board label is Big Trees Surfboards, and the board model is The Waveyarder. I designed the board myself, and built everything from scratch.
I love shopping at Big Creek Lumber. They are a local company. Their sales representatives are knowledgeable, they have quality products and a great reputation. I recently rebuilt my fence using Big Creek Lumber redwood.
To have your project featured in a future newsletter and on our website, contact our office