The 2022 McCrary Family Scholarship is accepting applications!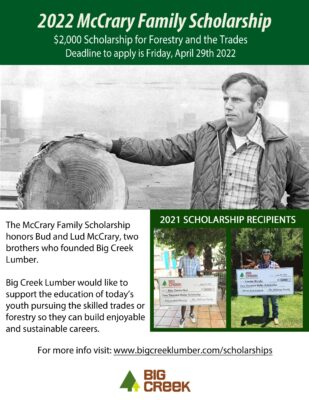 This was started in 2021 to celebrate the company's 75th year in business, awards financial assistance to high school seniors pursuing a career in the skilled trades or forestry. New this year is the option for past recipients of the scholarship to apply for a one-time renewal for continued financial support while pursuing their education.
Last year the McCrary Family Scholarship, provided $2,000 of financial assistance to two impressive graduating high school seniors. Alex Castro-Neri of Felton is studying Construction Management program at Hartnell Community College, where he will also be running for the Hartnell track team. He hopes to one day earn his degree in electrical engineering. Caeden Murphy of Paso Robles, attended and recently graduated from the Electrical Lineworker Program at Northwest Lineman College in Texas. Big Creek Lumber looks forward to awarding more scholarships to worthy recipients this year.
The McCrary Family Scholarship is inspired by Big Creek Lumber co-founders Bud and Lud McCrary who made their careers in the skilled trades.  Upon returning from service in World War II, Bud and Lud co-founded Big Creek Lumber at approximately the same age that most students graduate high school. The McCrary Family Scholarship honors the important roles that forestry and the skilled trades still play in the operation of Big Creek Lumber's business, for their construction industry customers and for the world.
For more info, visit our scholarship webpage: www.bigcreeklumber.com/scholarships