NEWS & NOTES FROM BIG CREEK LUMBER
Tools, Tips and Information from our business to yours – Building better business together!
---
Text Us!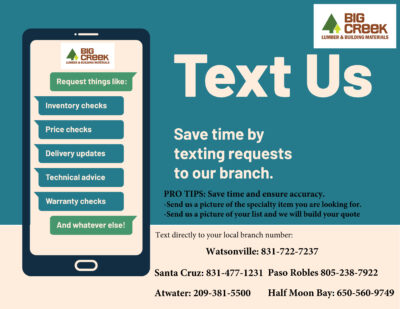 ---
Discount for CZU Fire Victims
Big Creek Lumber and some of our employees experienced first-hand the devastating effects of the recent wildfires. In an effort to assist any homeowner who suffered property loss as a result of the fires, we are offering contactor prices to these customers. Just contact your Big Creek Lumber sales person and explain your circumstances. We look forward to helping you with your rebuilding needs.
---
Bob Shepner, Accounts Payable/Inventory Control, Half Moon Bay

How long have you worked at Big Creek? 1 year
What is your favorite part of working for Big Creek? I love the precision, attention to detail and research my job requires and the HMB location, of course. But I most enjoy listening to the Customer/Big Creek employee interactions
What's your favorite product that we sell? 2×6-12 Redwood Con Heart S4S
What do you like to do for fun? Getting together with my friends to go out and spread good news
---
Market Report
The green Douglas fir market has seen strong demand and prices have started climbing. The plywood market has also seen more demand and prices are firming up, OSB is under produced and we will most likely see shortages thought the end of the year, look for prices to climb.