NEWS & NOTES FROM BIG CREEK LUMBER
Tools, Tips and Information from our business to yours – Building better business together!
---
In Memory of Co-Founder Homer "Bud" McCrary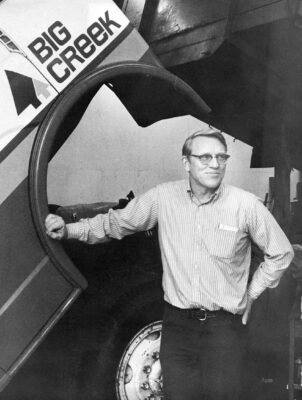 Innovative, creative, passionate and committed barely begin to describe Big Creek's co-founder, Homer T. "Bud" McCrary. To some, he has long been known as a pioneer of sustainable forestry. To others, a champion of community trails, an instigator of epic trail-building adventures and a cultivator of inventive mechanical solutions. His employees considered him a mentor and a friend.
All of us are deeply saddened to share that on June 1, 2020, Bud peacefully passed away at his beloved home in the redwoods of Santa Cruz County at the age of 93. We will remember him as a loving father and family man, a passionate leader in our community and a tireless advocate for sound forest management and for his treasured employees.
Bud led an extraordinary yet humble life. Born in Santa Cruz in 1927, he served in the Navy during World War II. Bud came home in 1946 to start Big Creek Lumber with his brother Frank "Lud" McCrary, uncle Homer Trumbo, and father Frank McCrary Sr. What started as a modest endeavor with crosscut saws and war bonds grew, with Bud's determination, into the thriving Big Creek Lumber of today that Bud has always been proud to call his team.
One of Bud's greatest legacies was his contribution to forestry in the state of California, especially its Central Coast. Bud was influential in pioneering a style of selective forest thinning during a time when clearcutting was the prevailing practice. Nearly two decades after Big Creek Lumber instituted Bud's single-tree selection harvesting methods, the counties of San Mateo, Santa Cruz and Santa Clara adopted this method of forestry as special county rules under state law. We witness Bud's legacy when we look at the vibrant forestlands of the Central Coast – forestlands that continue to contribute to the well-being of all.
Bud was a leader of Big Creek Lumber for many years, and we are fortunate that he had the foresight for a succession plan to ensure that Big Creek Lumber and his vision will continue for many years into the future.
Bud would ask us not to be sad, but to continue to drive forward with his hard-working spirit, creativity, and ingenuity in our hearts. Thank you Bud, you will be dearly missed.
---
Market Report
All three markets – Green Douglas Fir, Western Plywood & OSB – are very active and prices are moving up. Look for prices to continue to go up in June.
---
Branch Hours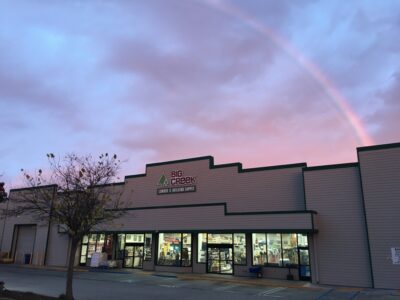 We've made some temporary changes to our store hours which vary regionally, please see our current hours below:
All Branches: Open Mon- Fri from 7am -4pm
Half Moon Bay, Santa Cruz & Watsonville: Open Saturdays from 8am – 1pm
Paso Robles & Atwater: Closed Saturdays
All Branches: Closed Sundays
---
Free Online Classes!
We're excited to offer free product knowledge & installation classes. These are live sessions hosted by vendor representatives and will allow for questions and answers. These classes will be an hour or less. Below is our schedule and directions on how to RSVP.
CLASS SCHEDULE:
AZEK Trim in California on Fri, 6/5 at 11am
Boral Tru Exterior Siding and Trim on Mon, 6/8 at 11am
TO RSVP: Email marketing@big-creek.com
 We will resume our classes again this winter!
We will send you a Zoom meeting invite with the log on information.