NEWS & NOTES FROM
BIG CREEK LUMBER
Tools, Tips and Information from our business to yours – Building better business together!
---
Upcoming Events: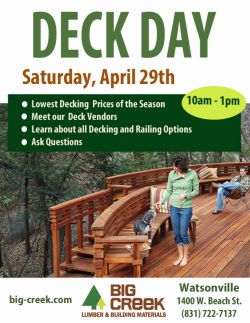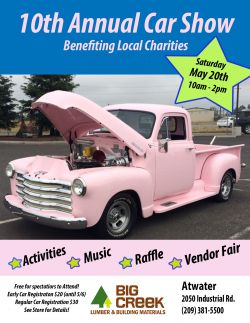 ---
Employee Spotlight
Selina Cipriano – Account Payables Clerk, Atwater 
How long have you worked at Big Creek? I've been working at Big Creek for one year and eight months.
What is your favorite part of working for Big Creek?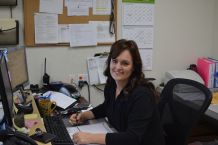 Helping customers find what they need for their projects. Then having the customers come back with pictures of their project and seeing how proud they are of their project.
What's your favorite product that we sell?  My favorite product to sell is the new Outdoor Accents from Simpson. Customers love the decorative hardware for their projects.
What do you like to do for fun? I enjoy going camping with my family to Pismo and love watching the kids ride their quads in the dunes. I enjoy making wood crafts and up recycling items to new creations. I also enjoying working at our local county fair with the 4-H and FFA kids. I really enjoy watching the kids grow with their animals and the joy they get from showing animals.
---
Looking to Succeed? It's Time to Get Uncomfortable
According to Steve Wheeler, a blog writer for Remodelers Advantage, if remodelers have difficult conversations, and have a lot of them, they will be more likely to succeed in business. This is because having a direct conversation addresses an issue before it "will fester and swell to an uncontrollable level." Wheeler offers four steps to approaching a difficult conversation to make it just a bit easier.
Take a Deep Breath – Depending on the situation, don't respond immediately. Make sure you are mentally ready to have the conversation and set up a time to talk to your colleague face-to-face about the problem. Overestimate the amount of time you need to make sure neither one of you feels the added pressure of needing to finish quickly. "Stay away from email," Wheeler advises. "Email is a delayed, one-sided conversation that cannot convey emotion or tone. Words can become misleading and can derail any progress moving forward."
---
April  Market Report
Green Douglas Fir market continues to grind higher slowly, with mill order files two weeks out.
Western sheathing is flat to firm with ten day to two week order files.
The OSB market is flat to firm with two to three week order files.
---
Want to be up on the latest at Big Creek Lumber?
Like us on Facebook: https://www.facebook.com/BigCreekLumber