NEWS & NOTES FROM BIG CREEK LUMBER
Tools, Tips and Information from our business to yours – Building better business together!
---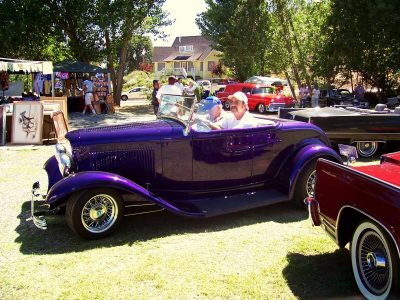 How long have you worked at Big Creek? I've worked at Big Creek for twelve years.
What is your favorite part of working for Big Creek? I enjoy playing the lumber and panel markets.
What's your favorite product that we sell? My favorite product is redwood.
What do you like to do for fun? Drive my hotrod & ride my motorcycle and sitting on my back deck watching the wildlife. Above you'll see my late father, Marvin Sprotte and I in my hot rod. My father was in the lumber industry for 42 years.
---
10 Traits of Managers Whose Teams Are Happy to Come to Work
By Sherrie Campbell
The last thing any manager wants their team members to do is dread coming to work each day. Because people spend the majority of their time at work, it is important managers do all they can to make that time enjoyable, exciting and well-spent.
A dictatorial manager who lacks empathy or insight may produce but high turnover will cause them to ultimately fail. Excellent managers do their best to make 80 percent of the job rewarding, with a 20 percent balance of healthy stress. While this may not always be the possible, it is nonetheless their goal.
1. Knowledgeable
To create a happy and successful team, exceptional managers make sure to be knowledgeable in every area of their field, and to have the resources necessary to gather the information they are lacking. They are responsible and thorough in their direction of others, they follow their insights and stay well-connected in their industry.
These skills make them the "safe-base" and strong ally team members need. The more knowledgeable a manager, the better the coach, and the more inspiring it is for team members to come to them for guidance.
---
August Market Report
Lumber markets have flattened out but Green Doulas Fir and Plywood are both still higher than last year. The market is very volatile and it is recommended to use caution when bidding jobs.