NEWS & NOTES FROM
BIG CREEK LUMBER
Tools, Tips and Information from our business to yours – Building better business together!
---
Contractor College 2017 – We hope you join us!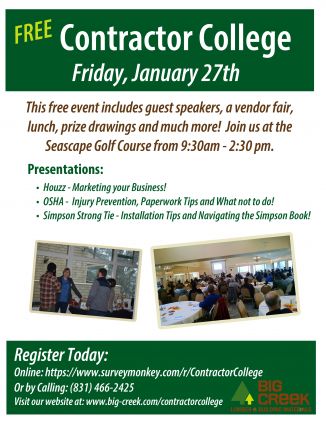 ---
We've Heard You – Try Big Creek Lumber's New Online Shopping.

If you'd like a logon, click below and we will get you access. Shortly after signing up you will receive an email with logon instructions.
---
Employee Spotlight
Bernardo Zambrano  – Sales, Purchasing and Receiving in Santa Cruz
How long have you worked at Big Creek?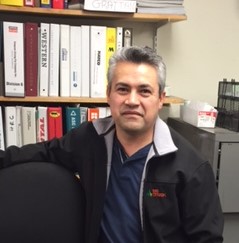 I've worked at Big Creek for over three years now. I've done multiple jobs including Contractor Sales, Purchasing and Receiving.
What is your favorite part of working for Big Creek?
I like that it is a family company – I feel like a family member. My co-workers are friendly.
What's your favorite product that we sell?
I like to sell everything. My favorite is Simpson Strong Tie because I like to work with numbers, size, lengths, etc.
What do you like to do for fun?
I like to spend as much time as I can with my family. I'm also into photography. My wife and I enjoy walking together to the ocean.
---
How One Remodeling Company Has Maintained Excellence Across Generations
Even after 60 years in business, CG&S Design-Build is still evolving
By Bruce D. Snider
Building a successful design/build remodeling brand can be the work of an entire career-or even two. Ask Stewart Davis, a co-owner and principal architect of CG&S Design/Build. The Austin, Texas-based company, now approaching its 60th anniversary, is a major player in its local market, with over $10 million in volume last year.
But in reaching that level, it has faced the same challenges as every other design/build remodeler, including building the brand identity, credibility, and portfolio of work that inspire confidence in prospective clients. Its ability to reinvent itself in response to changing market conditions provides important lessons to others who hope to follow in its footsteps.
From the Ground Up
"My father-in-law and mother-in-law, Clarence and Stella Guerrero, started the business in 1957, at the kitchen table," Davis says. "Dad was a carpenter, and he was tired of working for other people. They had eight kids, five of them boys, and all of the boys grew up in the business." Though Davis' wife, Dolores, wasn't involved in the business in childhood, she was hired later and is now the firm's general manager.
Throughout its first generation, the company's approach was straight remodeling, and design was not part of the package. "It was mostly handyman stuff, plus some larger projects. For the most part it was repairs and maintenance, with a few additions here and there," Davis says.
---
December Market Report
The Green Douglas Fir market in November found a bottom and has started to recover price losses with mill order files 1-2 weeks out.
The Western Sheathing market has started grinding its way higher, with mill order files 1-2 weeks out.
OSB, like the sheathing market has started grinding higher, with 2 week order files.
---
Want to be up on the latest at Big Creek Lumber?
Like us on Facebook: https://www.facebook.com/BigCreekLumber