NEWS & NOTES FROM
BIG CREEK LUMBER
Tools, Tips and Information from our business to yours – Building better business together!
---
Contractor College 2017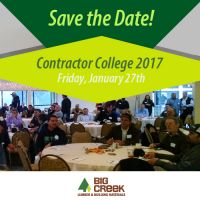 Our Contractor College is back!
It will be held again at the Seascape Golf Course in Aptos, CA, a few miles outside of Santa Cruz. This will be on Friday, January 27th.
If you have any suggestions or a topic that you would like to have covered at the event, please contact Michelle Overbeck, michelleo@big-creek.com
More Info and a link to RSVP will be coming soon. We hope you are able to join us!
---
Employee Spotlight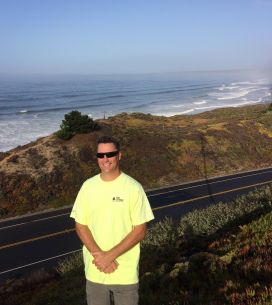 Scott Frank – Retail Delivery Driver
How long have you worked at Big Creek? 
I've worked here for two years, I also worked for Big Creek back in the 1990's for over six years.
What is your favorite part of working for Big Creek?
The people! For me it is very important to work in a positive environment with great people. I've found it here.
What's your favorite product that we sell?
The different decking solutions that we offer. There's new framing hardware that is both flexible and interchangeable.
What do you like to do for fun?
I like to spend my spare time surfing, flying an airplane, watching the Giants or traveling with my wife. I also enjoy spending time with my family. And during football season there's a fun rivalry in my house I am a huge Raider's fan while my wife roots for the 49ers.
---
To Sell More, Offer Fewer Options
Clients are inundated by a slew of options for their homes. So how can you help them navigate through all the choices? Offer them less.
By Helena Okolicsanyi
You're probably familiar with this scenario: It's a Sunday evening and you want to watch a movie on Netflix, but you spend more time scrolling through the seemingly endless options than actually watching anything. The same concept can be applied to the multitude of options that a client faces when remodeling a home-a variety of paint colors, window options, door frames, flooring, etc. In order to customize their homes, clients are left paralyzed by indecision. Isn't the freedom of choice supposed to make us happier?

In 2000, researchers published a study in the Journal of Personality and Social Psychology that set out to prove that perhaps being faced with endless options actually leaves us less satisfied. Colloquially called "the jam experiment," researchers went to a high- end grocery store and observed customers trying out a variety of jams. Some customers were asked to choose a favorite out of six jams, while another group was tasked with choosing their favorite out of 24. What researchers Sheena S. Iyengar and Mark R. Lepper found was that while choosers with more options enjoyed the opportunities, they also reported more frustration during the decision-making process and greater dissatisfaction with their choices.

Their conclusion: The multitude of choice leaves us frustrated, less satisfied, and unable to make decisions.
---
We'd Love your Feedback!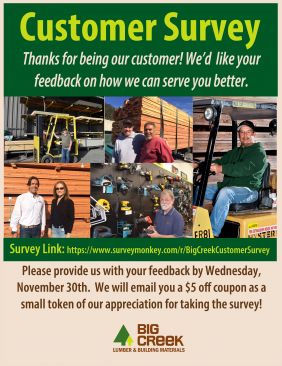 ---
November Market Report
The Green Douglas Fir market has been sideways in October, with Mill order files are two weeks out.
The OSB market has been sideways in October with order files being two to three weeks out.
The Western Sheathing market has been soft in October with Mill order files of two weeks.
---
Want to be up on the latest at Big Creek Lumber?
Like us on Facebook: https://www.facebook.com/BigCreekLumber