NEWS & NOTES FROM
BIG CREEK LUMBER
Tools, Tips and Information from our business to yours – Building better business together!
---
Employee Spotlight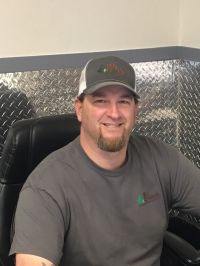 Craig Balson – Contractor Sales, Paso Robles
How long have you worked at Big Creek?
I have been with Big Creek for just over four years.
What is your favorite part of working for Big Creek? My favorite part of working at Big Creek is the family environment. From management on down we are able to interact and joke with each other like brothers, sisters or cousins which definitely helps to make the workplace enjoyable and not just some place you do the daily grind at.
What's your favorite product that we sell? We offer so many products that are high quality that this is really a question with many possible response, but if I had to narrow it down it would be our redwood. It is truly a level above what our competitors offer and people come from all over the state to get it from us, not to mention the many suppliers that purchase it for their own milled products.
What do you like to do for fun? When I am not at Big Creek I really love be around different musical events. They range from a standard concert to the periodical rave to the music festival I am going to in Budapest, Hungary this year, "Sziget".
---
Think 'More' is Always Better? Don't Be So Sure.
In your business and your personal life, chasing quantity doesn't do you any favors. Strive for quality, instead.
By Bruce Case
Topped with plastic elephants and monkeys, this mountain of joy sported 8.5 pounds of ice cream lathered in whipped cream, bananas, nuts, and cherries. The "Zoo" sundae was escorted to our table by a cadre of Farrell's Ice Cream Parlour team members. There was no better joy on earth for a 7-year-old's birthday party.
Then it started to melt. What was once a beautiful display of diverse flavors, colors, and textures quickly turned into a gray soup with floating zoo animals. Our joy turned to something else-a blend of disgust, sorrow, and shock. And something that was definitely no longer edible.
We have been chasing "more" for generations. The demand for more connectivity has seen the rise of social media, texting, chat, email, mobile phones. Yet many of us feel less connected than ever before. Just ask my neighbors, whom I barely know.
---
Employee Spotlight, Think 'More' is Always Better? Don't Be So Sure. July Market Report
Steady demand for Green Doug Fir in June kept upward momentum in prices.
The OSB market continues to be firm to up.
The Western Sheathing markets had a surge of buying last week and a mill fire drove prices up.
---
Want to be up on the latest at Big Creek Lumber?
Like us on Facebook: https://www.facebook.com/BigCreekLumber