NEWS & NOTES FROM
BIG CREEK LUMBER
Tools, Tips and Information from our business to yours – Building better business together!
---
March Lumber Market Report
The green douglas fir framing market is firm and climbing.
The western sheathing market is sideways.
The OSB market is up and still climbing.
---
March Store Special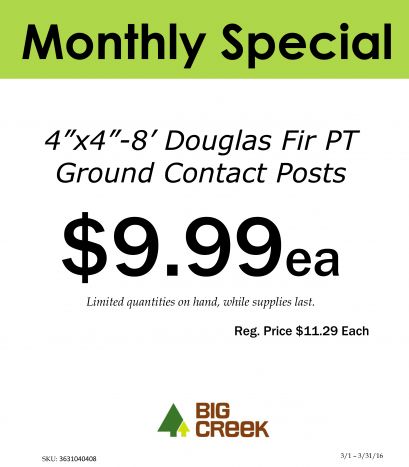 Limited Quantities. While supplies last. See an Associate for details.  3/1/16 –  3/31/16.
---
Why Remodelers Should Never Unsubscribe from an Email List
Even if the content is bad, the stealable marketing ideas might be priceless
By Mark Harari
I'd venture to say that 98% of remodeling companies do not have a professional copywriter and/or art director on their staff. But what if I told you that you could get the expertise of these talented (and expensive) professionals for free?
You may be thinking "Mark, you're nuts." Then again, "What's a copywriter?" or "Why would I need an art director?" are also valid responses to my bold statement. So, for those who haven't seen Mad Men yet, here's a quick definition courtesy of Wikipedia:
"The copywriter has ultimate responsibility for the … verbal or textual content, [she is] responsible for telling the story, crafting it in such a way that it resonates with the [prospect], ideally producing an emotional response. The art director has ultimate responsibility for visual communication and, particularly in the case of print work, may oversee production. Although, in many instances, either person may come up with the overall idea for the advertisement … (typically referred to as the concept) the process of collaboration often improves the work."
As you can imagine, it can be expensive to hire these pros on a freelance basis and, for most, having them on staff is flat-out crazy. But samples of their work-the techniques and strategy they use-are all around you.
---
Community – Westlake Elementary School
By Adrienne Cramer, First Grade Teacher at Westlake Elementary School
Every year, Westlake Elementary School hosts an art auction, which is the biggest fundraising event of the year. The money raised by the PTA goes to fund the teacher aides for kindergarten and first grade, art supplies, dance class, music class, part of the life lab teacher's salary, free community events that Westlake holds, and much more.
As part of the art auction, every classroom is in charge of producing a class art project to be sold during the auction. This year, my class has made a "Little Free Library". A "Little Free Library" is a place where books are stored outside in a covered hut, where people can borrow books and trade out books. With the help of Big Creek Lumber donating supplies (redwood posts, plywood, door hinges and wood stains) we were able to build and decorate our project.
This year the auction will be Saturday, March 12th at the Elks club in Santa Cruz. The theme this year is World Village. There will be an online auction, silent auction at the event, live auction, and a drawing with thousands of dollars worth of prizes.
I personally wanted to thank Big Creek Lumber for their support of our "Little Free Library" by their generous donation of supplies. Look around your neighborhood; you never know where the "Little Free Library" may pop up. For more information on the event, visit: http://www.supportwestlake.org/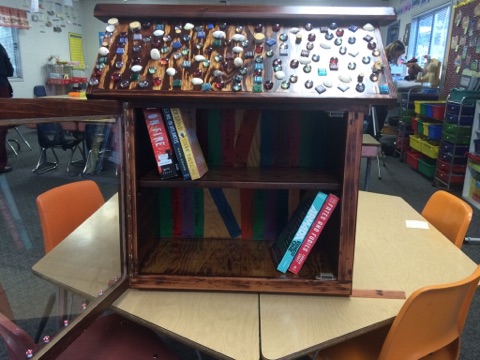 ---
Employee Spotlight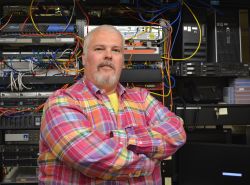 Roy Kozina – Systems Administrator
How long have you worked at Big Creek?
15 years as of March 1st. I came from a windowless cubicle at my job in Utah to a desk with an ocean view.  Never looked back!
What is your favorite part of working for Big Creek?
Solving problems.  I love troubleshooting issues, and learning new technologies.  Things have sure changed as far as the computers are concerned since I started back in 2001, which has been a big challenge, but overall it's also been a lot of fun!
What is the craziest thing that you have seen on the job?   
I've seen a shipwreck near Año Nuevo Island, a car crash on the Highway just below my office, and one weekend I came across a plane wreck at Big Creek's airstrip shortly after it happened.  And I've seen the horizon filled with blue and fin whale spouts.  But one of my most memorable experiences was, along with a couple of other employees, getting to take a helicopter ride down the coast with a pilot who wanted to thank Big Creek for letting him use the company's airstrip for a few days.
What's your favorite product that we sell?
The beautiful redwood slabs with unique wood grain patterns that we set aside for custom architectural features.  Many people have no idea we have these available here at the mill, but they are really spectacular.  We have a gorgeous one installed in our house as a countertop between the kitchen and dining area.
What do you like to do for fun?
I'm a big movie buff and love to see good films.  Also, I love to travel and visit parks in the National Parks System.  So far I've visited at least 36 parks, many of them more than once.  Starting last year, I'm trying to make it my goal each year to take a road trip with my two grandkids (ages 5 and 7) and visit different National Parks to instill in them a love of nature and the importance of being good stewards of the land.  Last year we traveled to Bryce Canyon and Zion & Kolob Canyon in southern Utah, as well as Pinnacles here in California.  They both earned their Junior Ranger badges at each Park.
---
Want to be up on the latest at Big Creek Lumber?
Like us on Facebook: https://www.facebook.com/BigCreekLumber