NEWS & NOTES FROM
BIG CREEK LUMBER
Tools, Tips and Information from our business to yours – Building better business together!
---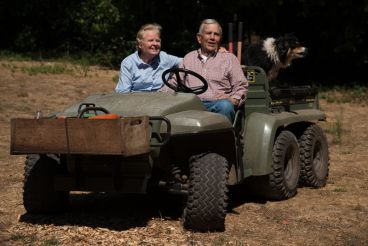 Employee Spotlight
Lud McCrary, Davenport
How long have you worked at Big Creek?
I've worked at Big Creek ever since it began which was in March of 1946.
What is your favorite part of working for Big Creek?
The timber industry has so many different facets of it that are interesting. I'm interested in the whole business from growing the trees, harvesting the trees, logging, the sawmill and sales. There are a lot of different things to keep a person interested. It's not an easy industry. There are always fires or floods and the market is up and down.
What's your favorite product that we sell?
My favorite product is clear heart vertical grain redwood which you'd like to see all lumber come out that way, but that is not how it happens.
What do you like to do for fun?
I've had cattle ever since my Uncle Homer passed away in 1949, when I took over his herd. In 1950, I married my wife Barbara and together we've shared a love of ranching. Our three daughters were into it, too, and as a family we've raised cattle, horses and various farm animals on our ranch in Swanton. These days my daughters and their families are participating in ranching too.
For years and years I was into endurance horse events both riding in them and putting them on. I used to  ride my horse to work as a part of my training, and I set up a coral with a few units of lumber and would have my horse there for the day and then ride him home.
At 15 years old I joined the Merchant Marine during WWII and in 1950 I had to leave Big Creek Lumber when they recalled the Naval Reserves and I served in the Korean War as a US Navy Seabee. I ran a sawmill on Amchitka Island in the Aleutian Islands. I am proud to have served my Country as a Veteran of the United States Armed Forces.
---
Atwater Car Show
We're hosting our 11th annual charity car show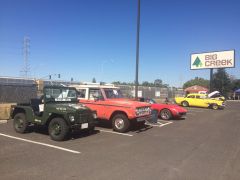 We're having our 11th Annual charity car show on Saturday, May 19th from 10am – 2pm at our Atwater Branch.
Every year we select and support local charities. The Atwater Police Activities League has been selected annually and they have some of their police cadets manage the parking lot at the event. This year our second beneficiary will be the Make a Wish Foundation of Central California.
We charge a fee for cars to enter the car show and they are eligible to place in the show. All entry fees are donated to the charities. The event is family friendly and free to attend…Not only can you see the cars, our vendors will be onsite to answer product questions, product specials, a raffle and a free ice cream sundae bar. This is an event not to be missed.
---
How To Have a Difficult Conversation with an Employee
These six tips can turn a confrontation into a conversion
By Paul Winans

I was talking to one of our sons about a work situation he was dealing with. He's a manager at an online retail company that is not too big but has grown over the last few years.
There had been an ongoing issue with the shipping manager. Both our son and one of the owners were going to have a reset meeting with that person.
Our son was looking for some advice. Here is what I offered him.
Be Consistent
You and the company owner need to be on the same page about who will take the lead role in the interaction. Whoever is not taking the lead role needs to know when he can step into the conversation.
In a highly charged situation, it is important to have one person lead the conversation and the other person offer supporting information, as needed. That clarity makes it easier for the employee, whose attitude needs to shift a bit to hear what is being presented.
Commodity prices for the Green Douglas Fir, Plywood and OSB markets are up approximately 25 – 30 % over the same period last year. Allocations are being talked about. Please plan accordingly when quoting jobs and stay in touch with your contacts at your local branch.
---
Want to be up on the latest at Big Creek Lumber?
Like us on Facebook: https://www.facebook.com/BigCreekLumber