NEWS & NOTES FROM
BIG CREEK LUMBER
Tools, Tips and Information from our business to yours – Building better business together!
---
May Lumber Market Report
The Green Douglas Fir market has been soft all month. A round of purchasing late in the month firmed quotes on the narrows, while 2 x 8 & 2 x10 remained soft.  The Douglas Fir market is set to firm and prices will rise through May.
The OSB market over the last four weeks has continued to have small weekly price increases, and with thin inventories in the supply chain it will continue to have increases through May.
The Western Sheathing market after being on a downward slide all month looks like it has found a bottom, and should start to rebound.
---
May Store Special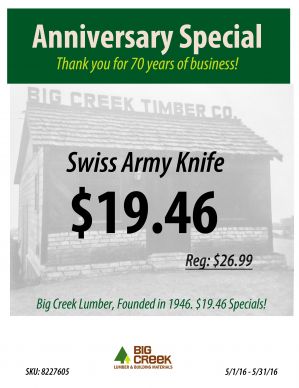 Limited Quantities. While supplies last. See an Associate for details.  5/1/16 – 5/31/16
---
Here's what's behind America's renewed mania for home renovation
By Amy Hoak
The Golden, Colo., ranch home Anne and Eric Drobny live in with their children was supposed to be a five-year house. But five years turned into eight, and things are getting tight.
"My kids are 10 and 13, and they're only getting bigger," said Anne Drobny. "It's important to us, as the kids get older, that they want to hang out here with their friends. Right now, with the layout, they couldn't do that."
They considered moving, but houses in their Applewood neighborhood can go off the market in hours; at one point, they agreed that if Anne liked a house, she could make an offer without him seeing it. Now, they're remodeling instead, and may use a home equity line of credit to pay for the expanded kitchen, laundry room and music room they want.
Stories like theirs are increasingly common. Thin housing inventory has contributed to a spike in remodeling as buyers pour money into their current homes instead of moving – often using home equity to do it. Read More
---
Community – Police in Pursuit, Special Olympics Fundraiser
We are excited to continue to support "Police in Pursuit", which is a fundraiser for the Special Olympics of Northern California. Local law enforcement officers race against each other in modified "police cars" at Ocean Speedway, located at the Watsonville Fairgrounds.
"Police in Pursuit" has raised over $36,000 for the Special Olympics so far this year, which is a significant increase to the total of $20,000 that they raised last year.  This event would not be possible without the volunteer efforts of the officers, donations from the community, and generous local businesses. Congratulations to everyone involved!
Upcoming Race Dates:
Friday, May 13th
Friday, June 17th
Saturday, August 6th
Friday, September 9th
Saturday, October 1st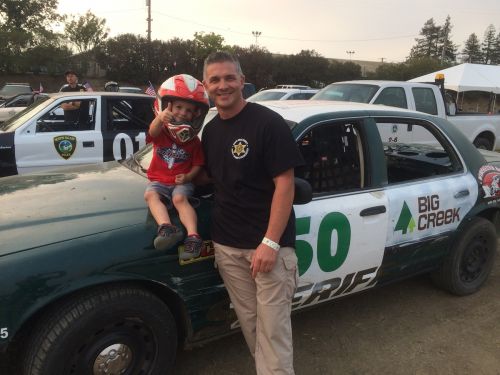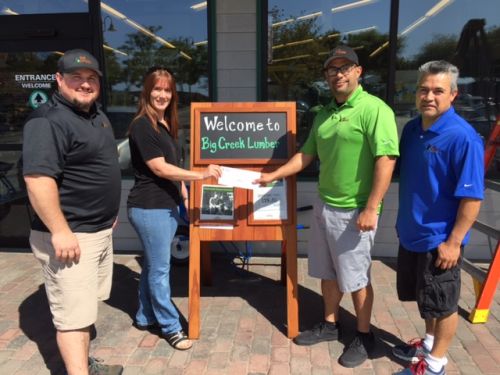 ---
Employee Spotlight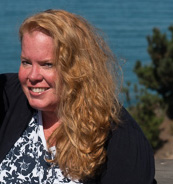 Diane Cardoza – Accounts Receivable
How long have you worked at Big Creek?
This July, I will celebrate nine years working at Big Creek Lumber.
What is your favorite part of working for Big Creek?
Listening to Bud and Lud tell stories about the good old days.  Finding out about how things have changed the last 70 years and the adventures they have gone through. Even including the tough times that they have overcome through the years. It is like listening to your grandpa tell you a history lesson at work.
What's your favorite product that we sell?
My favorite product is the redwood shavings, because they make great bedding for my family's livestock.  I also, use the sawdust for my flower beds.  The sawdust helps keep the weeds from growing and allows me to water my plants less often.
What do you like to do for fun?
I love to work with youth.  I am a Co-Community Leader for Quail Creek 4-H.  I also lead the swine and beef cattle project for Quail Creek 4-H. Quail Creek 4-H is based in the San Lorenzo Valley.
I encourage the kids to do a community service project every month. We believe in giving back to the community by doing a community service or teaching the youth how to become responsible individuals with strong leadership values.
---
Upcoming Events Customer Days
It's that time of year to join us for great products, vendor representatives, food and prize drawings. All events are from 10am – 2pm. We hope to see you there!
Atwater – Saturday, May 7th
Watsonville – Saturday, May 14th
Paso Robles – Saturday, June 4th
Half Moon Bay – Saturday, June 18th
Santa Cruz – Saturday, July 23rd
---
Interview in the NY Times
We were honored to have our Forestry Technician, Dennis Webb featured in an interview in the New York Times, which published on Sunday, May 1st.
---
Want to be up on the latest at Big Creek Lumber?
Like us on Facebook: https://www.facebook.com/BigCreekLumber