NEWS & NOTES FROM BIG CREEK LUMBER
Tools, Tips and Information from our business to yours – Building better business together!
---
Diane Olivares, Customer Service Credit Manager in Training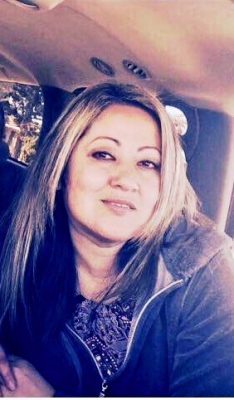 How long have you worked at Big Creek? I have worked at BCL since Sept of 2018! Now I'm in training to be the new Customer Service Credit Manager when Mae Harvey retires at the end of July. I am excited to learn new things and help our customers.
What is your favorite part of working for Big Creek? I have several favorite parts such as: the pleasant work atmosphere, career growth opportunities, employee benefits, and providing extraordinary customer services. Seeing that satisfaction on our customers' faces when they receive topnotch services is priceless! However it would be a tie. Big Creek Lumber values their employees as well as their customers. Their employee benefit program is generous and the amount of years Big Creek Lumber has been in business shows how much they care about their customer needs.
What's your favorite product that we sell? My favorite product is our redwood. Our redwood is unique. It is beautiful, and maintainable!  People around the world reach out to Big Creek Lumber just to fulfill their project needs with our redwood.
What do you like to do for fun? I enjoy giving back to the communities by volunteering in youth activities leagues such as Orlando Johnson Basketball Academy and Seaside Police Activity League. In addition to those leagues, I am very active at Seaside High. My family and I all volunteer in their Basketball, Baseball and Football programs.   
---
Market Report
With the closure of another Douglas Fir mill in April the Douglas Fir market has found a bottom and prices have started to climb. The OSB and Western plywood markets are still soft.
They are trying to find a trading level. With good weather ahead look for price to climb in May.
---
We have doors and windows!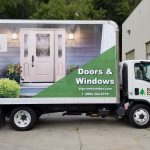 We can help you!
Call our dedicated door and window team today.
Check out our new door and window delivery truck.
---
Farmdale Elementary Receives A Garden Grant
By Khloe, Shirlee, Gabriella & Samantha (4th Graders at Farmdale Elementary)
On Tuesday April 2nd, Mrs. Hillhouse's 4th graders at Farmdale Elementary School received new items for the school garden from Big Creek Lumber. Mrs.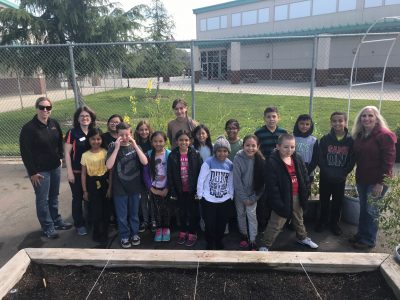 Hillhouse applied for a grant and was one of the lucky recipients. Big Creek Lumber only selected two schools in the area for this grant. Farmdale Elementary and Sheehy Elementary School were the lucky schools. Three representatives from Big Creek Lumber came to deliver the items. Michelle Overbeck (The Marketing Manager), David Russell (The Yard Foreman), and Julie Barnes (The Branch Manager) all came. The students helped to unload the products from the grant. They brought a rake, ten bags of soil, one shovel, a trowel, a small garden rake, and enough lumber to build two 4 x 8 planters. The students are planning to build two new planter beds with the lumber to grow more fruits and vegetables. Michelle Overbeck stated, "For the last two years, unloading the donations has been a highlight with the students (and me) seeing the pure joy in students as the school received the new materials." A Big thanks to Big Creek Lumber for their generosity!