NEWS & NOTES FROM BIG CREEK LUMBER
Tools, Tips and Information from our business to yours – Building better business together!
---
Kevin Hurt, Staff Forester
How long have you worked at Big Creek? A little over a year.
What is your favorite part of working for Big Creek? Being a part of sustainable forest management in the redwood region and getting to see the entire process from the forest to the mill.
What's your favorite product that we sell? I really enjoy the large dimensional redwood lumber because you can clearly see the early wood and late wood allowing an insight on growth characteristics.
What do you like to do for fun? Any time spent outdoors with my wife and dog.
---
We value your opinion!
We're doing our annual customer survey and would love your feedback!
---
Building our Communities – Bark Donation to the Peninsula Humane Society & SPCA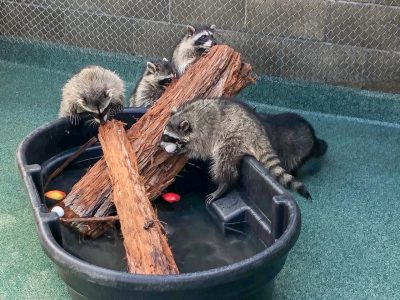 Every year we get hundreds of donation requests and the one from the Peninsula Humane Society & SPCA was the most interesting in quite some time. They requested bark to help make natural habitats for their wildlife program and we were happy to assist. Below is some information provided by the Peninsula Humane Society & SPCA on how they rescue and rehabilitate these animals.
Enrichment is a necessary and vital element of rehabbing raccoons. Raccoons that come into the wildlife center as babies may stay with us for up to 4 months. These are highly intelligent and sensitive creatures. They must be provided with stimulation not only to prevent boredom and depression, but to encourage natural behaviors and teach crucial life skills. Below are some enrichment we strive to provide:
Enclosure should be set up to mimic the natural habitat as much as possible.
Provide branches that allow for both vertical and horizontal climbing.(The bark is perfect for this and they love it!!)
Provide some branches with leaves and other foliage.
Offer natural toys such as rocks, pinecones, and shells.
Enclosure should be rearranged weekly to provide new obstacles and climbing opportunities.
Hide food items around enclosure to encourage foraging.
Occasionally rub new scents on branches and other enclosure furniture to give the raccoons something to investigate . Rub different flavored tea bags in various areas; spread some peanut butter under a branch, etc.
Provide a tub filled with dirt and worms, so the raccoons can practice digging
Offer whole corn with the husk so raccoons have to peal it off to get the treat inside
For more information on their program, visit: https://phs-spca.org/wildlife/
---
This Is the One Simple Thing Employees Really Want
By Mark Straz
New perks, new strategies, new working models — employers are trying everything they can to keep their employees happy and motivated. But in many ways, it's not really working. In March, employee engagement reached a high of 34.1 percent, only a slight increase, a Gallup report found, from an average of around 33 percent, dating all the way back to 2011.
Why aren't engagement strategies hitting their mark? They ignore what employees really want. Employers are running around in circles trying to make employees happy, but the solution is simpler than they realize. The answer, according to new research, is mastering core HR functions before moving on to perks. Chief among them? Employee benefits.
Flashy new perks come and go, but new data reveals that employees really just want better benefits. Here's a look at just how important core benefits are:
They engage employees.
"Engagement" is a heavy word that employers are always discussing and debating — and for good reason. Engagement is a serious problem in the workplace. But fixing engagement isn't about company culture fixes or offering free snacks. It's really about core employee benefits.
---
November Market Report
The Green Douglas Fir, OSB and Plywood markets all saw lower prices in October.
With the announcement of mill curtailments and possible strikes at some British Columbia Mills, all markets should see firmer prices in November.