NEWS & NOTES FROM BIG CREEK LUMBER
Tools, Tips and Information from our business to yours – Building better business together!
---
Jose Anguiano, Yard Worker and Forklift Operator in Paso Robles
How long have you worked at Big Creek? I have been working at Big Creek for 3 years.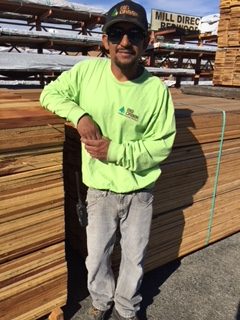 What is your favorite part of working for Big Creek? I enjoy being able to help build customer relationships by giving them the best customer service possible and being able to answer any questions they may have. I also enjoy being able to meet new people while supplying our community with good quality products.
What's your favorite product that we sell? My favorite product at Big Creek is our redwood.
What do you like to do for fun? I enjoy being outdoors and spending time with my family and friends.
What Gate Is It Anyway? How to Improve Communication With Clients at Your Remodeling Company
By Paul Winans
Sometimes what seems so obvious to a business is not very obvious to its clients. Frustration and anxiety occurs for the clients while the employees of the business feel they are doing their job well.
How do I know?
Nina and I were in the Amsterdam airport, looking to board the plane that would take us to Seattle. From Seattle, we would fly to the airport near our home in Southern Oregon. We cleared security with no problems. Looking up at the departure board we saw we were to go to gate D1. We were not worried, as D1 was close and we had an hour before the scheduled departure time. We went to D1 and were subjected to a US-required supplemental series of security questions. The airline agent completed the questioning and directed us to gate D47.
---
October Market Report
There was not too much activity in the commodities market this month. Please remember to check with your sales rep during the month for any changes.
If we have favorable weather and good demand continues in October we should see prices stabilize and possibly increase.